<lj-cut>

1.What makes you cool enough to grace this community with your presence?
There are so many thousands of amazingly 'cool' people, who are all so cool for totally different reasons, that the only way I can think to prove coolness myself is to post interesting facts.
I am seventeen, currently attending SDSU. I graduated high school at sixteen, and miss it like crazy. I collect odd, random things: Jones bottles, rare books, little porcelain clowns. I tap dance, pole dance, ballroom dance and am looking for a good belly dancing class. I keep rats, I'm a musician for a living right now, until I get my Master in American Sign Language Interpretation.

2. Give us some of your bragging rights.
GPA, education, IQ, awards, certificates at work, place in graduating class… any and all you got.
I have a tested IQ of 143, but honestly, I'm not all that proud if the number, simply because I believe it's more of a god given gift that something I earned. Granted, it takes a lot to build an IQ, but I got a heavy headstart on the footwork.
Other than that, there's almost nothing as far as education and awards go. I graduated at 16 with a 2.something GPA, because frankly, I was a little shit in high school who never did her coursework.
I was student of the month in 5th grade. I was student of the week twice.
I have an Editor's Choice award for a poem I wrote.
That's about it, really.

3. Some piece of work you're proud of
poem, prose, photographs, be creative here (link if it's long please)
It's a song I wrote a little while ago.
God, Help Me

God, help me,
I am falling again,
you're bleeding,
and I'm just standing around, and screaming,
there's nothing I can do.
God, help me,
I've been waiting for you for so long
and now that you're here, it's all wrong
you don't need my bullshit.
What can I say?
When you're right, you're right.
God, help me,
I'm still looking for you,
though, for your sake
I'm trying not to,
you're so bright,
and there's nothing I can do.
And what can I say? When you're right, you're right.
What can I say, I just want to be here
What can I say, I'm just glad to be here, with you...

It's not stupefying, it's not spectacular. The guitar for it is equally simple and obvious. I'm proud of it because it's the first song I ever wrote that really meant anything to me, that didn't start because a cute lyric popped into my head, but that I actually thought out for a specific reason. It's also the first song I played live when I came out of my little shell after a year and started playing shows again. So I'm very proud of it.

4. What are the intentions you have for the rest of your life?
career, school, home, family…
I am engaged to a soldier, and before you start with the flood of "you're too young!"'s, hear me out. It's to be a very long engagement, and I have no ideas of happily ever after or that we can beat the odds and make it. Who knows whether we'll make it. But it will give me $70,000 for college that I need to complete my degree program, not to mention pay for housing and other needs on the side.
I'm going through the 5 year program for American Sign Language interpretation, and once I have my Masters, it's a fairly done deal. There's always work, and not to mention, biiiiig $$$! But I'm still doing my music, acting whenever I get the chance, and I'm not abandoning entirely the faint fantasy of changing the world through music, and all that other fun stuff.


5. List the last books you read, your top three favorite books and why, and your favorite bands/musical influences.
"Writing Better Lyrics: Ten minute writing workshops", "Sticker Nation, volume 1" (although, that's not much of a reader beyond the explanations and meanings), and "The Satanic Bible" were my last three. I have to pick three favorite books? I'll try:
"The Lovely Bones", by Alice Sebold. I love the writing of it, Sebold managed to perfectly capture the nature of a fourteen year old romantic, without exaggerating or overdoing it where most authors do. I also love the story, both the idea of it and the plot itself.
"The Perks of Being a Wallflower", by Stephen Chbosky. I've always liked the style of writing a book through letters, and Chbosky's added twist that the letters are a plea to a stranger made me love it from page one. The way he developed Charlie was perfectly done to fit the character, straightfoward and blunt in a way the seems more naive than anything else. I can relate to Charlie, and care about him, and I think that's why I keep pickign this one up.
"The Holy Bible." I'm not reading it religiously, but it's just one of the most interesting, action filled books I've ever read. Plot twists on every page, a very unique writing style; it doesn't even matter that I already know the ending.
I love Sheryl Crow, and she is most likely my biggest influence. Also, there is a local musician here, named Kim DiVincenso. Something about here just...
Everytime I see her live, I go home and write three more songs. I'm not sure what it is, but I'd say that makes her a fairly big influence.

6. Give us your political and religious affiliations, with reason.
No need to provide an entire philosophy, but we want to make sure you're thinking for yourself.
I don't have any political affiliations, because it's too hard for me to follow the news correctly here, so I don't have a very good view of any political ground. Although, put simply, I do find myself agreeing with democrats' ideals much more often than Republicans', if that means anything.
I am Romany. I researched so many religions, looking for one I connected with, because religion sounded like a wonderful and happy thing to have. And I disagreed with the doctrines of every one until I picked up a Romany philosophy text. It felt like I must have written it, it perfectly laid out exactly what I thought about intelligent design and sins and morals, and most importantly, I actually found myself believing the aspects that call for faith.
In Romany, there are nine gods, named for the planets. They created Earth likely as a game or a hobby more than anything else. They have human traits: jealousy, anger, lust. Sins are not rigidly defined law. It is all about intentions. Now, where most people decide I must be worshipping Satan is when I tell them that I don't think Hitler is in Hell. I think he was crazy, I certainly think he was wrong, but he also was not evil. He honestly thought he was doing what was right for his peope, and thought he was serving his country. That's how our ideas of evil and good go, it's all about your heart. Also, you don't have to believe or agree with us to do to Euphoria. It's all about who you were.
Now I'm probably boring you to tears, so I'll move on to the next question.

7. Three pictures.
A shot other than head would be nice (group, body, so we get a sense of who you are). If you don't have that, wow us in a different way.
The point of this community is to prove that beauty isn't about false images, it's about being a strong individual and going for happiness. If for some reason you're uncomfortable with the picture aspect of the community or don't have any available, please just state that in your questionnaire.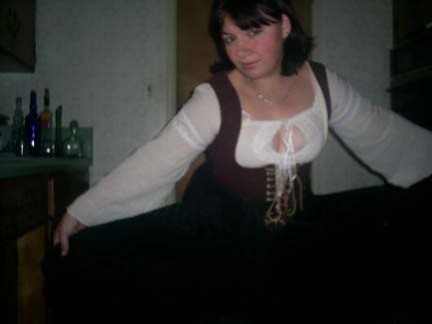 Me in my Ren Faire garb.



This was for another application in which they asked me to tell them my name with a picture. So, I spelled my name out of all my favortite things. I keep it now because I think it's a good picture to express who I am.
</lj-cut>